Staying Safe Online
The online world is posing an ever-increasing risk to children and it is important that schools, parents and carers work together to take an active role in teaching children about online dangers and how to act safely when using the internet.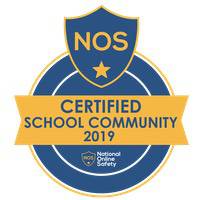 We are therefore working with National Online Safety to deliver an interactive online workshop for all our parents & carers who would like to get involved.
The course can be taken at your own convenience and covers:-
Information about online dangers and the newest platforms;

and

What online risks to look out for and how to protect your child.
You will need to complete your details and select "I am a: Parent/Carer" from the dropdown. The course can be accessed here
Once you have registered, you will be able to access the "Online Safety for Parents and Carers" course and National Online Safety's Resources (which includes 50+ online platform guides on the latest social media channels and games). This aims to help empower parents with the knowledge to protect their children from the dangers of the internet.
If you have any questions, or trouble accessing please contact support@nationalonlinesafety.com
Documents & Forms
E-Safety Quick Tips for Parents & Carers
Technology can provide great rewards to those that learn to use it well. It's important that these benefits are received whilst, at the same time, the risks are limited. Young people should have an entitlement to safe internet access at all times.
You should never give out personal details to online 'friends'. Use a nickname when logging on and don't share full name, email address, mobile number, school name and any photos, including photos of family or friends – any picture or video online can be changed or shared without permission.
Talk to your child about what they are doing online and who they are talking to. Get them to show you how to use things you are not familiar with. Keeping the computer in a family room means that you can share your child's online experience, they are less likely to act inappropriately (i.e. via webcam) and their online 'friends' will see they are in a family room.
If your child receives a message that upsets them, remind them not to reply, they should save the message and show you or another trusted adult.
Spam and junk emails and texts are not true, don't reply or send them to anyone else, just delete them.
Don't open files sent from people you don't know. They could contain a virus, or worse – an inappropriate image or film.
An online 'friend' is anyone you have not met in real life; no matter how long you have been friends with them.
Help your child to understand that some people lie online and that it's better to keep online 'mates' online. They should never meet up with any online 'friends' without an adult they trust.
Make sure they know how to block someone online and report them if they feel uncomfortable.
Make sure your child feels able to talk to you, let them know that it's never too late to tell someone if something makes them feel uncomfortable. Don't blame your child, let then know you trust them.